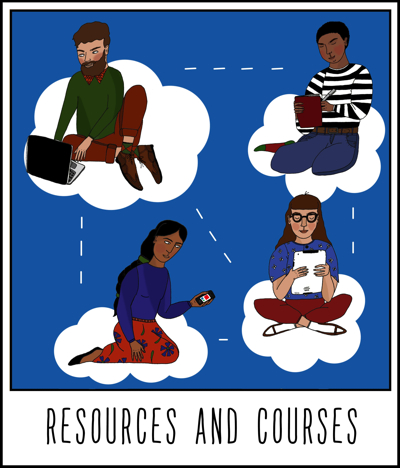 Do you have an idea for online learning but need someone to develop it? Or perhaps you have an existing course that you would like to deliver online?
I can help you to write and develop resources and courses that are relevant to professional practice, informed by experts and designed with your learners in mind.
Working alongside your subject experts, I can take your subject matter and:
write learning resources that are clear and straightforward
devise learning activities that are relevant to the learner and can be used in a portfolio of evidence
create scenarios that simulate authentic work challenges
develop performance support materials to extend or supplement formal learning
research existing resources and adapt or curate them for your learners
storyboard and/or script elearning for design and development.
Types of online learning
These days, online learning is delivered and supported in a variety of ways, using different platforms. These are the broad types of learning content that I can write and develop: 
Time-limited courses
These are usually password-protected courses designed for cohorts of students with a facilitator/teacher working on Moodle. These can be content-light, but are written to enable students to learn together in collaborative learning activities with the support of a facilitator. 
Self-paced learning

These modules stand alone on a website or learning management system and  are often designed using an authoring tool, such as Articulate Storyline. They may be available for mobile use – or there may be separate options for mobile 
Personalised and portfolio learning
If your organisation has a PebblePad license, I can work with you to design bespoke templates and workbooks for personalised learning and portfolio development. Read more about my PebblePad Workbook Design Service.
Further options
There are other types of online learning that do not require formal writing and developing services but still need planning and forethought: live virtual workshops/classrooms, webinars, live chat sessions and support for social networking. I can help you think through the options and to devise activities for participants for online – and workplace – learning.
Contact me to discuss your requirements for resources and courses. 
To see examples of online learning projects, please visit 'Case Studies'.