Supporting and educating people with a liver condition
A series of four topics for ward nurses and specialist nurses that:
support nurses in delivering excellent patient care and keep up to date with emerging national strategies for the care and treatment of people with liver disease;
offer practical tools and a library of resrouces and reference materials, including case studies and examples from practice, in a single online location;
capture expert experience through the involvement of the clinical editorial panel who work with the author to develop materials that are relevant, evidence-based and rooted in practice.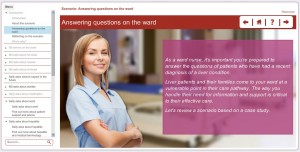 Building on the popularity and success of the earlier toolkits, the British Association for the Study of the Liver (BASL) commissioned a further toolkit through Oyster Healthcare Communications. I was the lead author, working with the specialist nurse panel to develop some action-oriented scenarios that bring to life the guidelines published by professional bodies and the National Institute for Clinical Excellence (NICE). Content was written in reference to the RCN (2013) competence framework for liver nursing.
In partnership with the elearning lab (aka Phil Mayor), we developed a number of conversational scenarios in Articulate Storyline to model conversations that nurses might have with liver patients at different stages of their illness. The authenticity of these conversations was informed and checked by our specialist nurse panel.