The Learning Performance Institute has published its 'capability map' this week. Try it out for yourself here.  I self-assessed myself and found that, on most relevant measures to my role, I am at Level 3: Guiding – which is what I would expect in my work as a consultant and as a writer of online learning materials.
This was a timely reminder that, whilst the need to keep learning has never been more pressing for me in my career, I need not feel threatened or de-skilled by the need for new skills.  Sometimes it is overwhelming, but if I bear in mind that my core capabilities are the foundation of all my new learning, I can contain the doubt that creeps up when I place myself in the position of novice (yet again) as I learn a new tool or technology.
As part of my final assignment for the Social Media for Professional Development workshop with Jane Hart, I started to map out my personal learning network (PLN). The map grew and grew! I found I needed to contextualise it in the bigger picture of all that I do online because a PLN is just one component of my work life. If you find it hard to read the detail, click on the graphic and  resize it or use this link.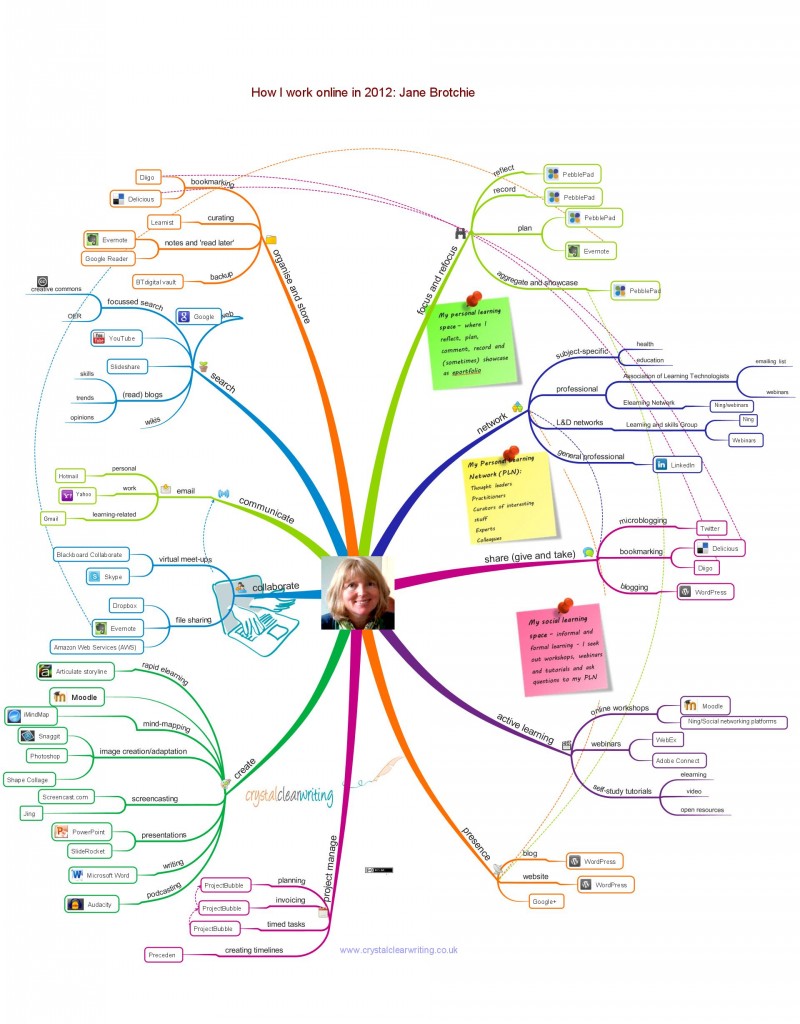 Creative commons


How I work online in 2012 by Jane Brotchie is licensed under a Creative Commons Attribution-ShareAlike 3.0 Unported License.
 The right hand side of the map is where my professional development takes place. These are the ways that I keep up to date and make sense of what I am learning.  There are three different 'spaces' here: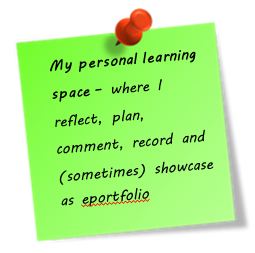 1) My personal learning space is where I can reflect, plan, comment, journal and record my learning and experiences. This is a private space until I choose to share my musings: this, for example, was my eportfolio for accreditation with the Association for Learning Technology in 2010 (CMALT).
2) My personal learning network is where I connect with all the people who may help me in my work: thought leaders, practitioners, curators of interesting stuff, experts and colleagues.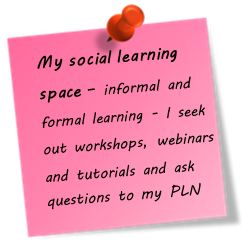 3) My social learning space includes my informal learning as well as the active learning I seek out through online workshops, webinars and tutorials to update my skills and knowledge.
On the left hand side of the map I have shown all the functions that support my work output – writing resources and courses for online learning. This is how the map looks in 2012. A year from now, the tools may change but I expect the functions to remain the same. To be successful in my work I need to be able to communicate, collaborate, create, network, learn, organise, project manage, focus and refocus. I have been doing this for over twenty years but the difference today is that all these functions can be carried out online. Some of them can be carried out in social spaces, others are private or shared only with a select few.
This presentation explains the mindmap in more detail.